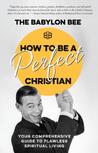 I received a copy of The Babylon Bee's "How to Be a Perfect Christian", a satirical look at Christianity, from WaterBrook and Multnomah as a welcome gift for joining their book launch team. I was not required to post a review; however, I felt like I should.
First of all, I am not a fan of The Babylon Bee's satirical work.  The website's main purpose is to make fun of anyone who doesn't hold their particular theological ideology.  Unfortunately, in many cases, they do not identify their work as satirical, and many are deceived by their low blows and consistent jabs at mega-churches, pastors, Christian authors and ministries.
As Christians, we are called to encourage and lift each other up, but The Babylon Bee ridicules the very people who are trying to live a Christian life and causing unsuspecting innocent people to be complicit in its atrocious behavior.
Some have defended The Babylon Bee saying the author/creator is not mocking Christianity, but I am not sure this is the case.  If it were, they would make it very clear on social media posts that their articles are satire.  Many people do not click on the article, but share them based on the shocking headline.